Shenzhen, China's largest electronic market has been closed down as a result of the COVID-19 restrictions and lockdown procedures. Electronics imports and exports into China have ceased as a result of the Chinese government's market closure. The most traded commodities in China nowadays are electronics. China leads all other nations in both its imports and exports of electronic goods. Among all commodities, these are also the ones that are traded the most in China. The COVID-19 lockdowns, including the shutting of China's biggest city Shanghai a few months ago, have seriously affected supply chains of the industrialised goods in the world's second-largest economy. In this article, we will discuss why China's electronic market shut down for global trade.
China's Electronic Market
As we know, China's Electronics Industry is a thorough and up-to-date study of the technology, manufacturing prowess, and infrastructure that have helped China become a significant participant in the electronics sector. It covers the past, present, and future of significant electronic technology as well as the advantages and disadvantages of doing business in China.
China has emerged into the economic scene more dramatically than any other nation during the past ten years. It has a cutting-edge semiconductor sector and is the largest producer of several electronic items in the world. Anyone interested in working with China in the electronics industry, including business managers, academics, government organisations, foreign investors, as well as those who are interested in the past, present, and future growth of China's Electronics Industry, must read this timely and comprehensive report from America's leading authority.
Comparative Analysis of Electronic Trade in China
China has the greatest imports and exports to date in 2021. The total value of imports in 2021 was $668.65 billion, while the total value of exports was $898.95 billion. The trade figures for China are shown below to show that exports are valued higher than imports.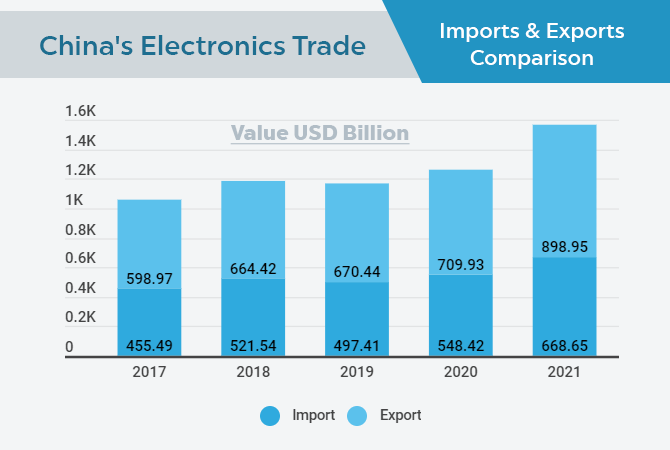 Top Exported Electronic Items for 2021
According to the reports for 2021, these are the top Electronic Items for 2021-
Phones
Integrated circuits
Light emitting diodes
Monitors & projectors
Static converters
Electric accumulators
Heaters
Electric conductors
Machines, switches & plugs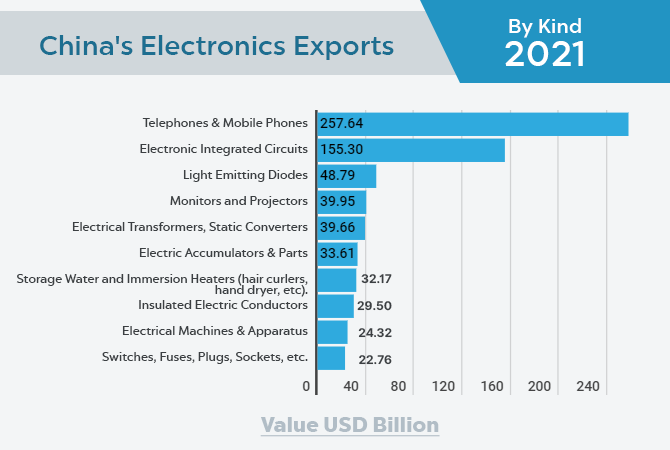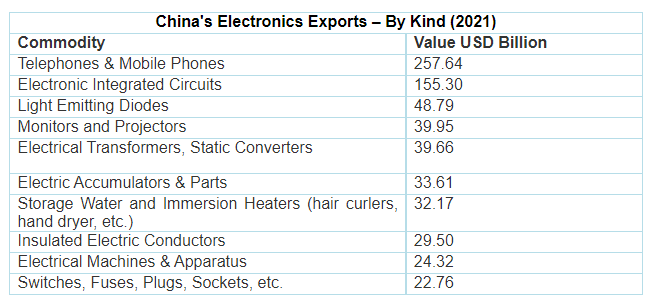 Top Electronic Export Partners For 2021
According to China export data 2021 below, the top export partners for China's electronics are—
Hong Kong (21.8%)
US (15%)
South Korea (5.3%)
Vietnam (5.2%)
Japan (4.2%)
Taipei (3.9%)
Netherlands (3.9%)
Germany (3%)
India (2.9%)
Malaysia (2.5%)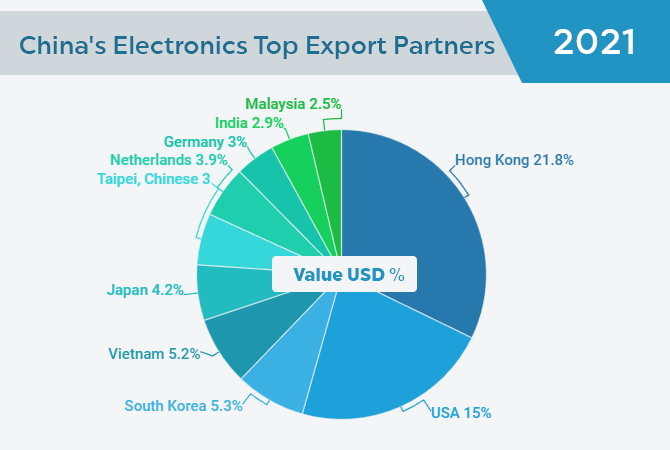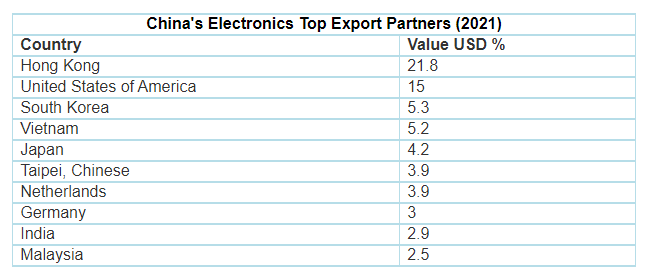 Why China shuts down the world's largest electronic market
In an effort to contain a recent rise in coronavirus cases in the southern city, China's technology hub Shenzhen ordered the closure of the largest electronics wholesale market on Monday. This came as a leading Chinese think tank called for a change in the nation's "zero-COVID" policy, which it claimed was causing significant business disruption for the electronic market. The largest electronics bazaar in the world, located in the Huaqiangbei neighbourhood, was officially announced to be closed until y in order to contain the Covid spread. Everyday nucleic acid testing and working from home are requirements for all tenants. One of the largest operators in the neighbourhood, Huaqiang Electronics World, was cited by a Hong Kong-based daily. Shenzhen China's most modern industrial city itself faced several shutdowns in the recent past to deal with sudden spikes of the virus.
China's Shenzhen Exports – Monthly Trend
Shenzhen, China, is one of the world's largest electronics centres and one of the busiest markets for electronics in the country, producing 90% of the world's electronics. The exported goods from Shenzhen are included in the shown China export data for 2022.
By June, the values had gradually fallen, with January representing the biggest percentage of the year's overall exports. According to data from our online trade intelligence platform, Shenzhen exported electronics worth close to $2 billion in 2021. Due to the shutdown, the $2 billion in commodities that the electronic market sent to other areas of the world, including Vietnam and India, which are the top two markets for Shenzhen exports, will have an impact on the prices of electronic goods there.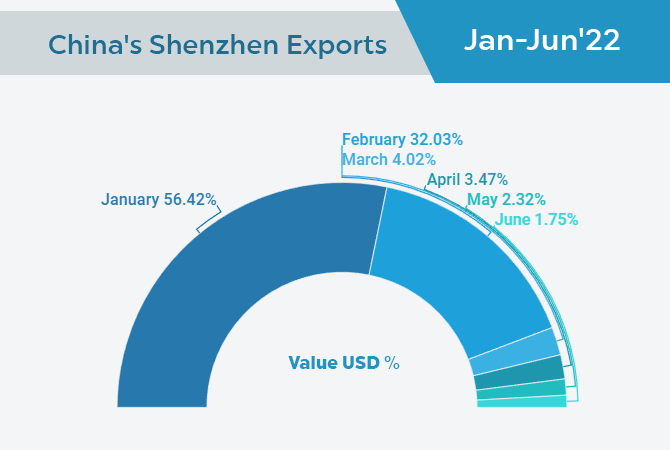 Conclusion
Due to strong domestic demand, consumer electronics industries have now begun to experience an increase in sales since April 2020. In March, China exported close to 21 million cellphones, a 240 per cent monthly increase. In April, the market saw the release of over 24 new 5G smartphone models. Over 6.21 million 5G cellphones were shipped domestically, a 160 percent increase from February. Eximpedia is the best service provider of export-import data. It provides up-to-date, trustworthy, and accurate Global Import Export Trade data and trade statistics for several countries, including Kenya, Mexico, Pakistan, Kenya, the United States, and Russia. Eximpedia can be your most accurate export import data provider if you're looking for reliable global trade data. Send an email to info@eximpedia.app right away to obtain import-export data.