Turkey is a rising nation with a strategic location that links Europe and Asia. Turkey ranks among the highest 30 countries in the world in terms of exports and imports. Regarding the import processes, people generally want to have all the export-import data. In 2019, the value of goods bought by importers in the UK from Turkey was about 12.1 billion US. The expansion of trade between these countries is primarily due to their Trade Agreement, which influences, e.g., tariffs on various goods. The UK primarily imports vehicles, pearls, precious stones, and machinery from Turkey. However, in this case, some measures are general and must be applied. What should you do when importing goods from Turkey? Let's examine it together.
Understand About Turkey Global Trade
For centuries, Turkey has been a trading power connecting Europe and Asia with its ideal transcontinental location. Today, the country enjoys close trading connections with the UK. In 2021, n 2021, the entire trade of goods between Turkey and the UK totaled US$19.2 billion, an addition from US$16.8 billion according to the Department for International Trade. In 2019, the value of goods bought by importers in the UK from Turkey was around 12.1 billion US.
Who can Import Goods from Turkey?
Imports are allowed for individuals and institutions who meet the requirements outlined in Article 8 of the Import Regime Decree. Import transactions can be carried out by real and legal people having tax numbers allocated following the Tax Procedure Law, as well as person partnerships permitted to make legal savings following the current regulations.
It is also crucial that the product you want to import from Turkey is legal and completes the conditions both in your country and in Turkey. For this, you require to import products that will not contradict the help of the country. At this stage, you require to inspect the product code, HS Code, and Global Export Import Trade Data from the trusted import data provider of your country.
What can Import from Turkey?
The United Kingdom imported goods worth US$15 billion from Turkey in 2021, an growth from US$11.4 billion reported a year earlier. Chapter-wise, UK's top imports from Turkey were vehicles other than railway or tramways, electrical machinery & equipment, machinery, mechanical appliances, etc., knitted or crocheted apparel & clothing accessories, pearls & precious stones, and articles of iron & steel. Here is a list of entities that the UK imported from Turkey in 2021.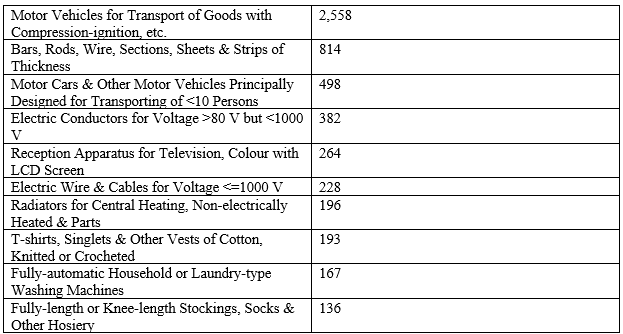 Before carrying out the import procedure, it's important to obtain acquainted with available means of transport. We explain all you must know about shipping from Turkey to the UK.
Means of transport-Shipping from Turkey to the UK
Airfreight
Airfreight is the quickest and safest way to transport your goods. It's recommended primarily for small shipments, valuable products, or fragile ones. Due to its brief transit time, it's also utilized by the importers of articles with short expiry date like, e.g., food. Air transport is also a suitable option for delivering flowers or pharmaceutical products. However, one must keep in mind that while it's the most suitable method to transport goods, it's also the most expensive one.
Sea Freight
Sea freight is the most generally used mean of transporting cargo in international trade. It's mainly due to fairly low prices and the possibility of delivering goods in containers. When you prefer sea freight, you have to choose between FCL and LCL transport. FCL means Full Container Load and stands for full container transport. Importers prefer it to transit larger loads, often undersized. On the other hand, LCL is used mostly for smaller goods in a smaller quantity. In this case, you will share a container with other recipients.
Road freight
Some forwarders also manage road freight from Turkey to the UK. Road freight may be an excellent option for the previously mentioned means of transport. It's more affordable than costly airfreight and faster than sea freight. What's more, it permits door-to-door delivery, which is incredibly convenient. This way, you don't have to organize multimodal transportation of your goods; you simply rely on one mode.
How to import from Turkey to the UK
Step-1 Acquire Complete a customs declaration form
It is mandatory to have customs forms attached to all goods arriving in the UK from abroad. This will declare any goods you're bringing into the UK and what it's worth to HMRC. You can reach a broker to sort the customs declaration on your behalf.
Step-2 Obtain an EORI number
When importing from Turkey, you'll require an EORI number. This will begin with GB (or XI in some cases in Northern Ireland). If yours doesn't, you'll request a new one. You can register for an EORI online, and you'll obtain it within a couple of days.
Step-3 Comply with Rules of Origin
You must comply with the regulations of origin so that you can help from any preferential tariffs. Origin country is the place from where goods get originated, which may not be from the country you're shipping from, and which are protected in trade agreements.
Step-4 Complete an Import Declaration
You will require to include commodity code, consignment reference code, and customs procedure code in your import declaration. Commodity codes disclose how much duty your business must pay and if you need an import license.
Step-5 Pay Tax
To obtain your goods released from customs, you have to pay applicable duty and VAT.
Freight Options
You can obtain your goods from Turkey via air freight, road, or ship. Air freight is the quickest, but also the most expensive option. It will take between two and three days to acquire goods using this method. Sea freight can take between 9 and 19 days whereas land will take up to around 40 days.
Free Trade Agreement between Turkey and UK
In 2021, the UK signed a trade agreement with Turkey, along the lines of a traditional free trade agreement to permit trade between the two countries to remain uninterrupted post Brexit. Preferential tariff rates apply to trade between the two nations.
The trade agreement covers:
Provisions on preferential tariffs
Intellectual property
Competition
Dispute settlement
Note- Without a deal, 75% of goods imported from Turkey would be subject to tariffs.
Acquire Import Export Data by Eximpedia
It can be challenging to manage the process reliably, as the processes of importing products are difficult. Turkish Goods safely carries all sorts of products between exporters and importers. For Turkish Goods, safety and quality are a discipline. It acts by carrying out meticulous work at every phase, from the quality packaging processes of the products to their quality controls. Eximpedia is a superior export import data provider. It delivers up-to-date, accurate, and dependable worldwide import-export trade statistics and global trade data for a wide range of nations, including India, the United States, Russia, Kenya, Mexico, Pakistan, and others. If you are looking for trusted Global Trade Data, Eximpedia can be your most satisfactory service provider. Reach info@eximpedia.app today and get well-organized data in a structured manner.