As imports from China keep growing, small and medium local manufacturers of medical devices have initiated shutting down, incapable of competing on price and quality. India's medical devices imports surged 41 percent to touch Rs 63,200 crore in 2021-22, led by a 48 percent year-on-year jump in imports from China to Rs 13,538 crore, the commerce ministry data analyzed by the Association of Indian Medical Device Industry (AiMeD) has published the notification. Let's explore how India's high imports of medical devices are hurting its potential.
Medical Devices Market and Industry
The medical devices market is important in the trend, especially after the COVID-19 pandemic in 2020. Due to the rising market for many kinds of medical devices, the industry not only paced up but also picked up, in numbers. Medical devices come in various forms according to their distinct applications and features, namely ultrasound machines, x-ray machines, life-supporting devices such as pacemakers, surgery needles, and other similar instruments and apparatus designed especially for medical procedures. The USA stands at the highest rank in the market with a market value estimated worth $176 billion in 2020, expected to grow at a CAGR of 5% from 2021 to 2025. The US is also the highest supplier of medical devices in the world.
India's Imports Declined after Covid-19
India's medical device imports considerably declined in the last year. The imports of medical devices (Heading 9018) amounted to $1.8 billion in 2019, dropping especially in the next year by 17.4% ($314.8 million) with total imports amounting to $1.49 billion.
Though the imports in 2020 were due to the pandemic, the year 2021 recorded a substantial rise in the number of imports of medical devices in India. The imports of medical devices are hurting the indigenous manufacturers of the entities, and trade figures will reveal how.
India's dependency on imported medical devices has increased to an "alarming" level as demand boosts and an unsupportive duty structure hurts domestic manufacturers, an industry group said.
Medical device imports grew by a record 41 percent to Rs 63,200 crore in 2021-22 from Rs 44,708 crore in FY21, according to the Association of Indian Medical Device Industry (AiMeD), which dissected commerce ministry data. "It's a problematic situation as the increase has been fivefold over six years," said Rajiv Nath, forum coordinator of AiMeD. India imported Rs 12,866 crore worth of medical devices in 2016-17, he stated.
China remained the prior source of medical devices for India, with shipments from the neighbouring country rising 48 percent to Rs 13,538 crore in FY22 from a year earlier, the AiMeD analysis displayed. India's medical device market is assessed at more than $11 billion (Rs 87,752 crore), with overseas suppliers contributing around 70 percent.
"Currently, it is assessed that there are around 1,500 such units, and more are on the verge of closing down," Nath, who is even the managing director of Hindustan Syringes and Medical Devices (HMD), expressed.
The rise in Import Dependency
The elevation in intermediate imports is less of a concern as it is a signal of industrial recovery and greater demand for inputs. Indian exports to China have also increased by more than 50% in the last two years. These are mostly raw materials such as ores, as well as cotton and seafood, and not finished products
India's dependence on imported medical devices grows many concerns, experts defined. They stated that as the pandemic receded, there's been a rebound in healthcare for Covid-19 and other infections, with super-specialty hospitals coming up and seeking the latest tools.
AiMeD expresses that Indian manufacturers are failing out on this opportunity to foreign counterparts – Chinese, in most cases – due to cheaper prices. "The present basic import tariff ranges between 0 to 7.5 percent. There are many machines on which the government has imposed zero import duty, which is the main cause for the growth in imports," Nath said.
Sunil Khetrapal, director of the Association of Healthcare Providers India, told both the government and the private sector are preparing several further specialty and super-specialty hospitals, which is fuelling demand for foreign medical devices.
"Today, the world-class corporate hospital groups are building high-end infrastructure and buying high-end devices and opening India to medical tourism," he stated.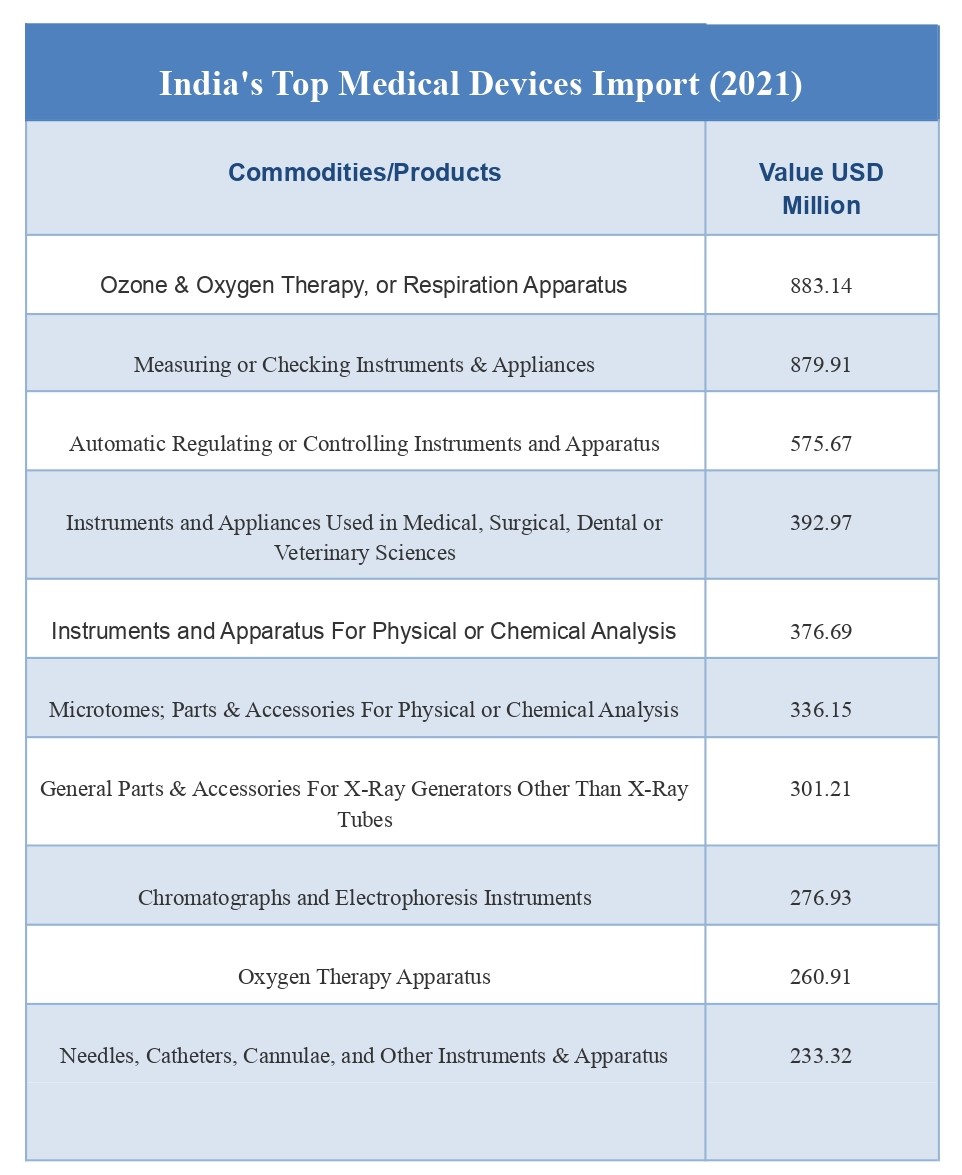 Medical Devices Imported into India
There are various types of medical devices imported into India – consumables, disposables, electronics and equipment, implants, IVD (in vitro diagnostics) reagents, and surgical instruments, as per the AiMeD analysis.
Electronics and equipment
India's import dependency on the 'electronics and equipment' variety of medical devices has been the highest and was worth Rs 40,649 crore in FY22. This type contains MRI machines, CT scanners, ultrasound machines, X-ray machines, cancer diagnostics, dental drills, and minimally invasive surgical devices.
Local manufacturers
Local manufacturers of medical devices said it is more reasonable to import products than to procure the raw material in India and this has led to the closure of some small and medium units. As per AiMeD, the number of domestic medical device manufacturers had proceeded up to 1,800 during the peak of the covid pandemic. "Slowly, units started to shut down as imports from China kept on growing. Now, it is calculated that there are about 1,500 such units and many more are on the verge of closing down," Nath expressed.
Patient Safety Devices
Industry leaders stated that the import of specific types of medical devices in India is unavoidable due to quality issues. "The growing demand for quality healthcare and the absence of matching delivery mechanisms pose a great challenge to us and an option to importers," stated Khetrapal. Aashish Chaudhry, managing director of Aakash Healthcare Super Speciality Hospital in New Delhi, said there is a distinction in the quality of products manufactured in India and those that are imported. "Indian manufacturers have to work a lot in terms of research and producing the right models," he stated.
Get Medical Import-Export Data by Eximpedia
The Medical l industry in India is forecast to increase to Rs. 8.6 trillion (US$ 132.84 billion) by FY22 from Rs. 4 trillion (US$ 61.79 billion) in FY17 at a CAGR of 16–17%. The Government of India is planning to increase public health spending to 2.5% of the country's GDP by 2025. Eximpedia is a top provider of Export Import Data. It provides up-to-date, reliable medical, and accurate global import export trade statistics and trade data for several countries, including Kenya, Mexico, Pakistan, Kenya, the United States, and Russia. Eximpedia can be your most reliable service provider if you're looking for reliable global trade data. Send an email to info@eximpedia.app right away to receive structured, well-organized data.