India is regarded as the top trading nation and a large exporting nation in recent decades, which has facilitated the Indian economy to new heights. Also, India's trade data have grown rapidly in recent years. Finding the best provider of import-export data for you in the export-import industry really depends on your unique use case, data requirements, financial status, and geographic coverage. If you decide to buy import and export data from a reputable provider, EximPedia is the ideal website to analyze industry trends. In this blog, we will discuss trade statistics in brief and how to find India's import export data in simple steps.
India Trade Data for 2021-22
As a result of India's aggressive policy drive and considerable infrastructural investment, exports and imports have increased recently. The United States (US), which surpassed China in the previous fiscal year to become India's largest trading partner, is one of India's top trading partners, according to the India Import Export Data. UAE has also been one of India's major trading partners as a result of the growing oil trade. India's exports of products grew by a record 43.18 percent to US$417.81 billion in FY 2022 from US$291.18 billion in FY 2021, setting a new high. In the same period, India's product imports increased to US$610.22 billion, up 54.71% from the US$394.44 billion recorded in FY 2021. Let's discuss export and import statistics in detail.
What is the total export of India in 2022?
According to the Commerce Ministry, India gained monthly value of merchandise export in May 2022 amounting to USD 37.29 billion, an increase of 15.46% over USD 32.30 billion in May 2021. For the fiscal year (FY) 2021–22, India's merchandise exports reached a new high of US$417.81 billion, up 33.33 percent from US$313.36 billion in FY 2019–20 and 43.18 percent from US$291.18 billion in the previous fiscal year. This projection for 2021–2022, which excludes India export data from ports that don't enable EDI, is higher than anticipated (Electronic Data Interchange).
India's export volume increased by a record amount in the first seven months of 2021–2022. India sold items worth more than $197 billion between April and September 2021, with monthly exports exceeding $30 billion.
What are the total imports of India in 2022?
According to the Ministry of Commerce and Industry, India's merchandise import in January 2022 was USD 52.01 billion, and grew 23.74% over USD 42.03 billion in January 2021, and expanded 26.38% over USD 41.15 billion in January 2020.
Also, India's import industry is large and more lucrative than its export industry. In India, several different goods or commodities are imported. Additionally, it is crucial for the growth of the country's economy. India brought in USD 52.01 billion in imports last year, up 23.74% from USD 42.03 billion in January 2021. India imported goods worth USD 495.83 billion in 2021–22. EximPedia is the leading import-export data provider internationally for accurate India Import Data, despite the market has a large number of Data statistics providers.
Why is data important in trade?
As we know, Import export statistics are very significant and helpful for providing accurate, relevant, and authentic trade data worldwide. Globally there is a vital need of understanding market insights. There are numerous top exporting and importing countries that indulge in data export import. India's trade data plays a prominent role globally. The number of commodities exported and from India has significantly improved, and the market is now wider than ever. Many international markets are majorly dependent on India for importing certain goods to their countries.
What is India's most exported item?
These are the major exported items from India according to the India import export data -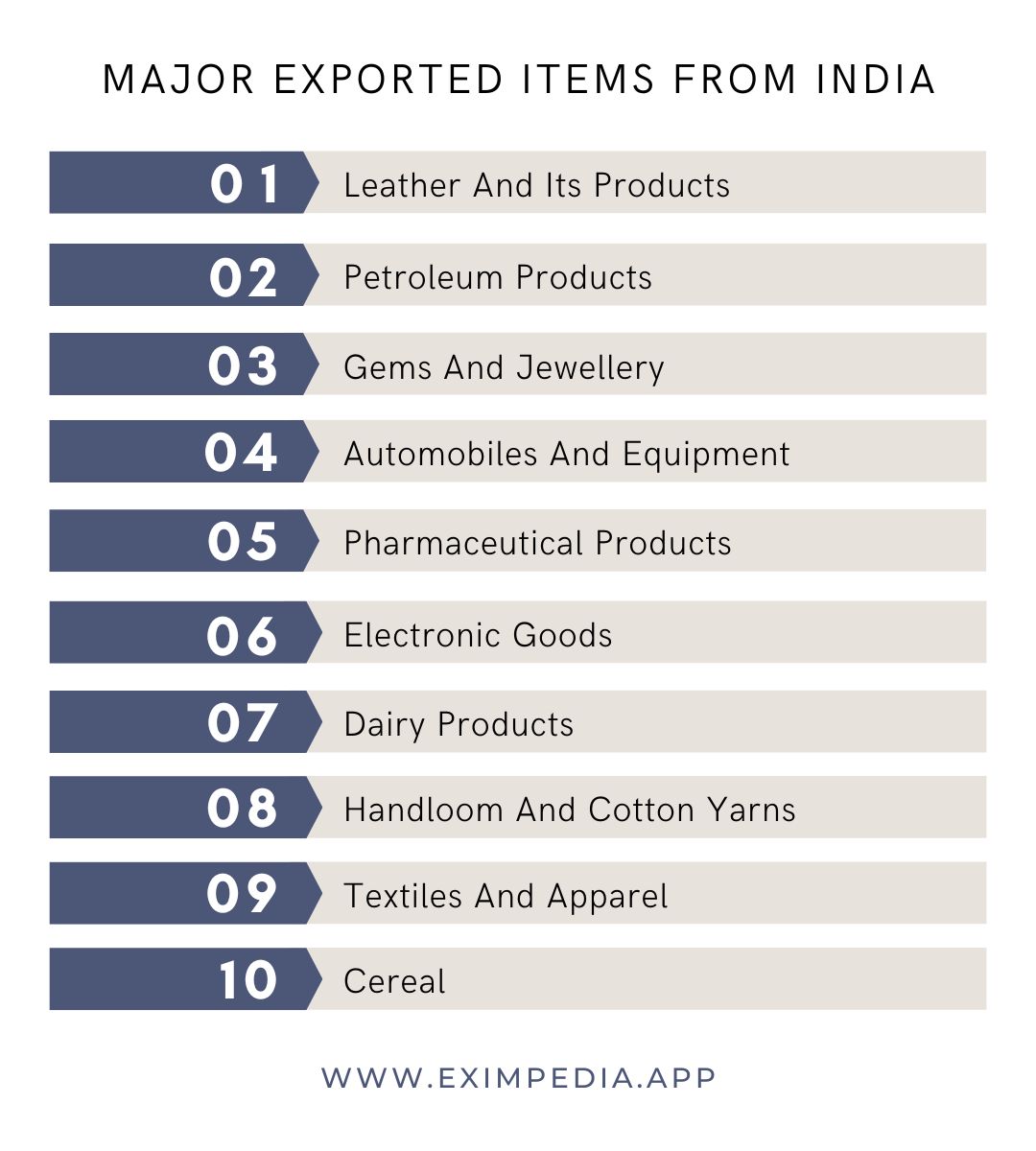 So, these are the major exported items from India to global countries. If you require India Export Import Data, you can analyze the trade market insights from our single dashboard.
Where can I find India import export data?
EximPedia is one of the best and most accurate import export data provider companies in India. It renders 100% genuine, trusted, and reliable custom shipment data for more than 100+ countries such as India, the USA, Russia, Mexico, Indonesia, Vietnam, etc.
Our highly skilled data professionals team has years of experience in data processing and mining. We are experts in furnishing the most precise, systematic trade statistics, enabling you to expand ongoing trade flows and find favorable market positions both within India and internationally. EximPedia is one of the best options if you're looking for reliable India trade data and India import export data. Contact info@eximpedia.app right away to acquire structured, authorized, and well-organized data.