As we know, Steel plays a vital role in the modern world. Also, Steel is an alloy made by combining iron and other elements. According to the statistics, in 2021, a total of around 1.958 billion metric tons of crude steel were produced worldwide. Also, the largest steel-producing country is currently China, which accounted for 57% of world steel production in 2020. For the importation of iron and steel into their country, each nation has its own foreign trade policy. In this blog, we will discuss the top 10 steel-importing countries worldwide.
Economic Impact of the steel Industry
In today's society, steel is essential. Steel is a key component of infrastructure and one of the most significant building materials. It also supports a variety of manufacturing processes. It is crucial to global research and development initiatives and opens doors for creative solutions in other industries.
Giving a meaningful estimate of the economic impact of the steel industry through figures is not an easy and simple process given the variety of steel applications and functions. For this reason, world steel hired Oxford Economics to assess the worldwide impact of our sector in 2019.
Critical aspects of the steel industry for the Economy
CO2 emissions volume
energy output
Resource Effectiveness
Environment-management techniques
Rate of Lost Time Injuries
Investment in new procedures and goods Employee training
Shared Economic Value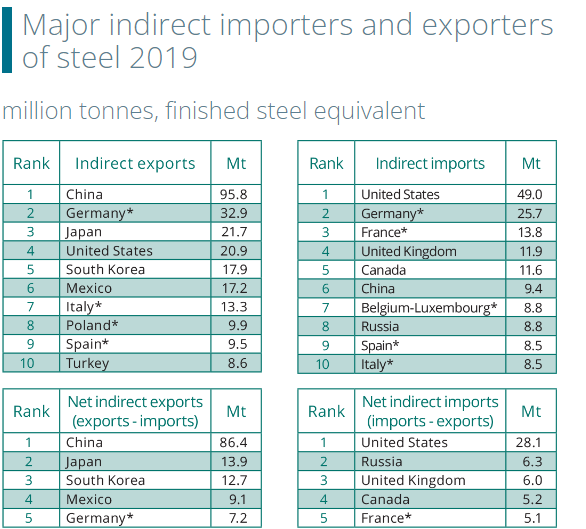 How to import Iron and Steel?
For the importation of iron and steel into their country, each nation has its own foreign trade policy. However, the majority of nations have laws governing the management, handling, and Transborder movement of hazardous wastes or other authorities that control the importation and use of iron and steel in those nations. Now understand the importing procedures for steel.
Quality requirements of the importing nation
Government agencies in the importing nation must approve the import of iron and steel according to quality standards. Such things may only be imported if they are in accordance with the quality certification certificate from the importing country's quality approval authority.
Regulations as per Hazardous Wastes management
Before the real import of iron and steel occurs, any importer who wishes to do so must abide by the terms and conditions of such hazardous waste management, handling, and transboundary movement restrictions. The hazardous waste commodities are carried in accordance with form 9 which is prescribed by the importing country, as per the rules for the management, handling, and transboundary movement of hazardous wastes.
Approval is Required from Environment Department
To control the importation, consumption, and use of goods that have an impact on the environment, almost every country has an environmental department. Some of the commodities under iron and steel require import authorization from the environment agency of the importing nation. The Ministry of Environment and Forest (MOEF) is the designated government body in India with the authority to control the importation of such materials.
Analysis from Laboratory to import Iron and Steel
The importer must get a test report from an approved laboratory that is permitted or regulated by the importing country in order to import iron and steel. In accordance with the processes and regulations of the nation of import, a necessary sample of imported iron and steel is drawn and submitted to the authorized laboratory, and the results of the analysis are obtained.
Certificate for import from the Pollution Control Board
As part of the paperwork procedures for importing some commodities under the heading of "Iron and Steel," the necessary pollution board certificate must be submitted with other documents. As a result, importers of items classified as iron and steel must register with the importing nation's pollution control board.
Certificate of Origin for Steel and Iron Imports:
In practically all nations, the country of origin of imported iron and steel is required. Therefore, in order to import iron and steel, a certificate of origin issued by the requisite, authorized authorities in the exporting country is needed. Determine the origin of imported products to qualify for exemption from import duties and taxes with the aid of a certificate of origin. A variety of unilateral, multilateral, and bilateral agreements between nations permit imports and exports with the exclusion of import tariffs, with the Certificate of Origin serving as the principal indication of the country of origin of imported commodities for the iron and steel industry.
Mandatory to Obtain Export Import Data
It is mandatory to obtain reliable, authentic, and accurate export-import data to import steel from global countries. Also, the specific import data are very prominent for businesses that indulge in exports and imports. For the most recent statistics for the steel industry, you can obtain valuable information from EximPedia data-driven dashboard.
Top 10 steel-importing countries
According to the Global Trade Data, these are the top 10 steel importing companies worldwide:
European Union
United States
China
Germany
Italy
Turkey
Thailand
Mexico
South Korea
Poland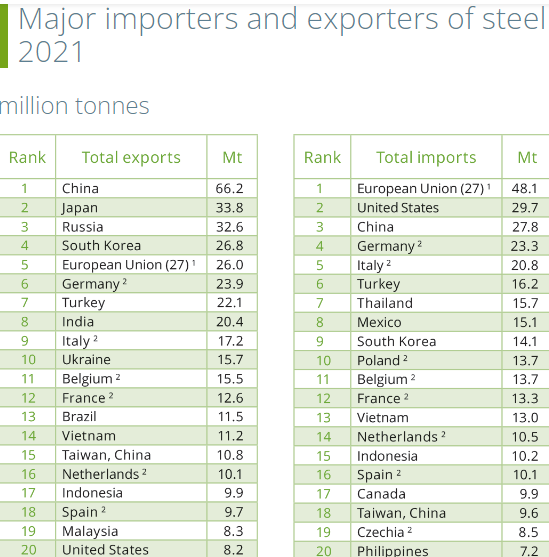 According to the import-export data, China imported 37.9 million metric tonnes of steel into the region in 2020, making it the largest importer in the world. The United States and Germany, the top importer of steel into the European Union, were next. In 2020, imports of finished and semi-finished steel from Germany totaled about 18.2 million metric tonnes. For More recent Steel Import Data, you can gather authentic and reliable export import data from EximPedia.App.
How to find Steel Import Export Data?
One of the greatest and most reliable providers of import-export data globally is EximPedia. For more than 100+ countries, including India, the USA, Russia, Mexico, Indonesia, Vietnam, and others, it provides 100% real, trustworthy, and dependable custom shipment data.
Also, they have years of training and expertise in data processing and mining. We are specialists in providing the most accurate, systematic India Trade Data, allowing you to increase current trade flows and find advantageous market positions both domestically and globally. If you're seeking dependable global trade data, including import and export figures, EximPedia is one of your best platforms. To obtain structured, authorized, and well-organized data, get in touch with info@eximpedia.app straight once.
Book Free Demo Online
Phone No: - +16075244100 | info@eximpedia.app